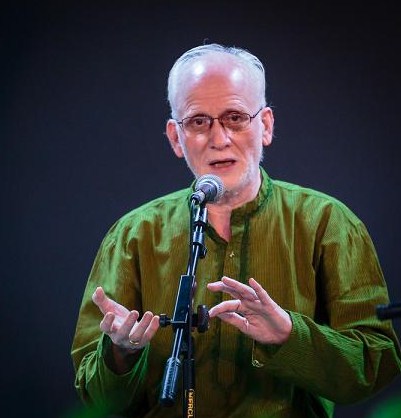 Pandit Arun Kashalkar ji, born Jan 5, 1943, has mesmerized audiences with his scintillating performances for more than 5 decades.
Initiated into the field of Indian classical music by his father, the renowned musicologist and teacher Pt.N.D.Kashalkar, Pandit Arun Kashalkar later received training from Pt. Rajabhau Kogje and Pt. Ram Marathe. Later on, Pandit Gajananrao Joshi, the stalwart vocalist and violinist of Gwalior, Jaipur and Agra gharanas, guided Arun Kashalkar for several years.
The renowned vocalist of Agra gharana, Pandit Babanrao Haldankar also taught Kashalkarji and helped shape his Agra gharana gayaki. Steeped in traditional 'Guru-Shishya' parampara, rigorous riyaz and introspection, Kashalkarji's gayaki is a blend of Gwalior, Jaipur and Agra styles, with emphasis on the lively and rhythm-oriented style of the Agra gharana. His concerts are known for the essence of this Gharana which is 'nomtom', 'bols', 'taans' of great force and boundless creativity. He also composes his own 'bandishes' under the pseudonym of 'Rasdaas'.

He has earned his 'Sangeetacharya' from Akhil Bharatiya Gandharv mahavidyalaya mandal, for his research on the Bandishes of Ustad Vilayat Hussain Khan Saheb of Agra Gharana. He has also guided several others in their quest for similar doctorate honours. He has been associated as a Director of Kala Academy in Panjim, Goa for Indian classical Music in the late 90's.
An 'A' grade artist on Akashwani (All India Radio), a regular performer on Doordarshan (Television) and featured on National programmes, naturally he has performed in all prestigious festivals like, Sawai Gandharva Music festival, Ustad Alladiya Khan Saheb festival, Ustad Faiyyaz Khan Saheb festival, SajanMilap, Saptak, National Centre for Performing Arts (NCPA), Sangeet Research Academy (SRA, Kolkata), to name a few.
Pandit Arun Kashalkarji was invited to Faculty of Music, M.S. University, Baroda for Archival Recording of traditional Bandishes of Agra Gharana.
Pandit Arun Kashalkar ji's musical career spans more than 5 decades of hectic schedule of concerts, lecture demonstrations and grooming students in the field of music. His gayaki has made a mark on the contemporary musical scene through diligent practice, informed study and assimilation.