Pandit Arun Kashalkar's music family tree encompasses Gurus from the Gwalior and Agra streams of Indian Classical Vocal music having the musical tradition and knowledge base built over many years.

Shri N. D. Kashalkar (1906 - 2002)

An advocate by profession, Nagesh Dattatreya Kashalkar's (alias Bhausaheb) first love was music. He learnt music for some time from Matangebua of Satara, developing his knowledge later on his own. His articles on music, many of them published in "Sangeet Kala Vihar" and various news papers were lauded by musicians and musicologists alike, as was his book "Gandharva Shiksha" (published: 1964, reprinted: Dec 2010). Adv N.D. Kashalkar ji has also published 'Bal Dnyaneshwari' and 'Subodh Patanjali'.

 
Pandit Ram Marathe [23 Oct 1924 - 4 Oct 1989]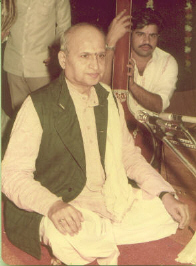 Shri Ram Marathe was an outstanding vocalist of rare distinction. He was born in Pune in the  year 1924 and had the proud privilege of receiving extensive training from stalwarts like Pandit Manohar Barve, Pandit Mirashibua, Master Krishna Rao Phulambrikar, Ustad Vilayat Hussain Khan and Pandit Jagannathbua Purohit. Apart from his gurus, he was influenced by Pandit Gajanan Rao Joshi as well,  and, assimilating the best of Gwalior, Agra and Jaipur Gharanas of Khayal singing, Pandit Ram Marathe developed a style of his own.

Pandit Ram Marathe was known for his exquisite `Bandishes' and purity in Raga rendition. He had a rich collection of uncommon Ragas and rare compositions. His performances, always having the traditional flavour, were marked by intricate but clear 'Taans', prolific 'Boltaans' and astounding 'Layakari'.  He was greatly successful in his Radio broadcasts, music conferences and concerts all over the country, and was one of the most popular artistes of his time.  Ram Marathe received great admiration for his performances on the Marathi stage and in Hindi, Gujrati and Marathi films. Not only as a popular singer of the Marathi stage,  he was also a respected music director,  composing for popular plays like Ekach Pyala, Maan Apamaan, Mandarmala and Meghamalhar. His name will certainly go down in the history of Marathi stage along with the famous names of Bal Gandharva, Vinayakrao Patwardhan , Master Krishnarao, Master Dinanath and other Maestros.
Pt Ram Marathe was awarded the title of Sangeet Bhushan by the Government of Maharashtra and besides many other honours, he has been the recipient of Sangeet Natak Akademy Award in the year 1987.

Pandit Gajanrao Joshi [30 Jan 1911 - 28 Jun 1987]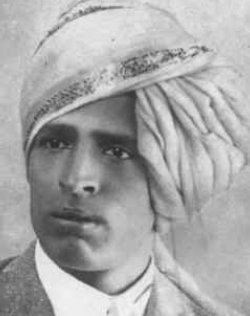 Pandit Gajanbua's father, Pandit Anant Manohar Joshi(Antubua) was a distinguished khayal singer who had studied under pandit Balakrishnabuwa Ichalkaranjikar."
Gajananbuwa studied gayaki of Gwalior gharana under his father and also from Pandit Ramkrishnabua Vaze. He assimilated other styles in his gayaki. His other gurus were Ustad Vilyat Hussein Khan (Agra gharana), Ustad Bhurji Khan (Jaipur-Atrauli gharana).
Pandit Gajananbua was a highly skilled violin player by the time he turned 20. With tireless perseverance, he also overcame the handicap with his throat.
His students include some famous names in Indian Classical Music. Some of them are Madhukar Joshi(son), Arun Kashalkar, Ulhas Kashalkar, Vikas Kashalkar and violinist Shridhar Parsekar. He also taught vocalists Kaushalya Manjeshwar, Shubhada Paradkar and Jayashree Patnekar.
Pandit Babanrao Haldankar


An ace-performer whose concerts are invariably attended by musicians themselves. A competent Guru from whom are learning many well-known artists; a thought provoking writer who has written three valuable books on music, the fourth one being on way to publication; a creative composer, whose catchy Bandishes (compositions) have been adopted by many senior musicians.. Also, a thought-provoking musicologist – whose lecture-demonstrations are highly appreciated. Finally a researcher in music who has evolved basic principles governing the emotive contents of Ragas, revolutionised the method of teaching music as per Guru-Shishya Parampara evolved his own time theory of Ragas. Conducted extensive research in the Shruti values of some 40 Ragas and assigned frequencies of sensitive (not normal) notes of these Ragas."
Rated as one of the few musicians who remind of the high values cherished by the Ustads of the past generations; yet innovative and imaginative enough to make concerts lively and set ideal before the young generation. His concerts are invariably attended by renowned musicians. He has performed in numerous conferences in India and abroad.